10 Best Vehicles For Van Life
We've all gained a greater understanding of how critical it is to break away from it all over the last year and a half. Taking a vacation from the daily grind is essential for our physical and mental well-being. Sure, vaccines have made travel more convenient, but you'd be excused if you didn't want to spend any time on a crowded plane any time soon.
Fortunately, you won't have to deal with the crowds at the airport. It just so happens that we're in the midst of a luxury camper and trailer renaissance, making it easier than ever to live life on the road without sacrificing comfort. And now, a slew of companies are treating camper vans in the same way.
These all-in-one cars may not be able to sleep as many people as their gargantuan counterparts, but they are packed with amenities like high-end kitchens, WiFi-enabled multimedia systems, and soft beds. Furthermore, because of their smaller size, camper vans are more nimble, making them a little more off-road friendly and a lot easier to park. Here are some campers that will allow you to enjoy van life in style and comfort.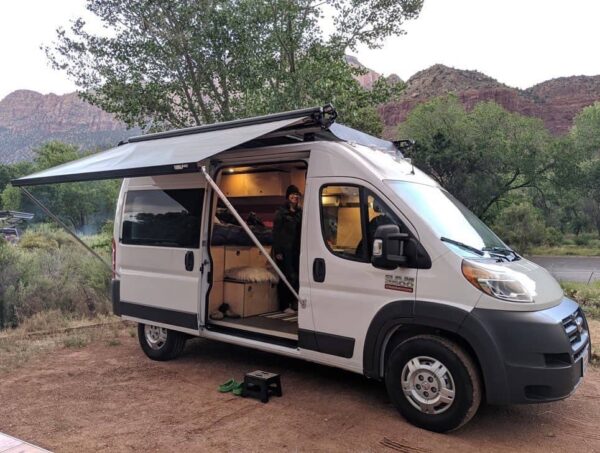 Credit: TheOldWomanWhoLivesInAVan
Glampervan Promaster MUV
Glampervan might be worth a look if you're having trouble finding a van that ticks all of your boxes. The Oakland-based company will help you design the vehicle of your dreams using the Ram Promaster 136 as a platform, whether your main concern is work or play (or both).
The fully loaded version starts at roughly $80,000 and features a large interior with a full kitchen, plenty of storage, and a couch area that converts to a bed. The van is powered by a 3.6-liter V-6 engine that produces 280 horsepower and 260 pound-feet of torque.
That mill, together with a host of off-road attachments like all-terrain tires, means you'll be able to get some mileage out of the van even after the pavement runs out.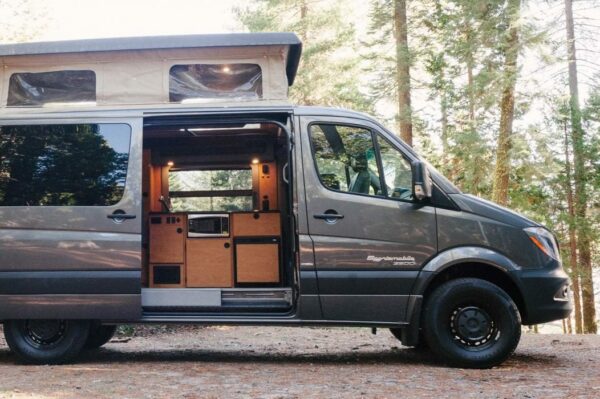 Credit: SportsMobile
Sportsmobile Sprinter 4×4
With just one glance at Sportsmobile's Sprinter 44, it's evident what the company's designers were aiming for: off-roading. The Texas outfit's stripped-down take on Mercedes' ultra-popular van comes equipped with a 3.0-liter BlueTec V-6 coupled to a five-speed automatic transmission and pumps out 188 hp and 325 ft lbs of torque, whether you choose with the 12- or 14-foot configuration.
That should be enough to take on even the most difficult terrain. Inside, there's a large living space with a fully equipped kitchen. If you need even more space, consider a pop-up sleeping area, which will make it even easier to relax in style.

Credit: AutoEvolution
Winnebago Boldt
Airstream isn't the only well-known RV manufacturer that has entered the camper van market. Winnebago really sells a few, with the Boldt being our favorite. The $230,276 van includes everything you'd expect from a larger vehicle, including designated living and sleeping rooms, a fully functional kitchen, and a bathroom with a shower, despite being nowhere near as long as one of its campers—it tops out at 22 feet in length.
You can also choose from a variety of interior décor options, each of which offers a fresh spin on classic Winnebago flair. The Boldt is designed on paved roads and campgrounds, but the manufacturer also sells the off-road-ready Revel if you prefer a more robust ride.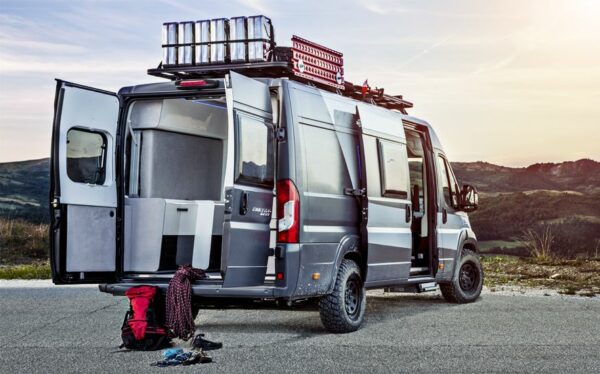 Credit: Pinterest
Fiat Ducato Base Camper Van
It can be difficult to locate a classy camper van if you don't like the Mercedes Sprinter. Fortunately, the Fiat Ducato should suffice. The van, which starts at $48,000, is an excellent starting point for anyone wishing to build their own compact RV.
You may configure it to include whatever you want to take with you on the road, including an entertainment and sleeping area, as well as a kitchen. It comes in four different wheelbases: 9.8, 11.3, 12.5 and 13.2 feet. There are a variety of powertrain options to choose from as well.
For the purists who can't imagine driving anything else, the most powerful produces up to 180 horsepower and is coupled to a manual transmission. In the near future, the company also hopes to release an electric version.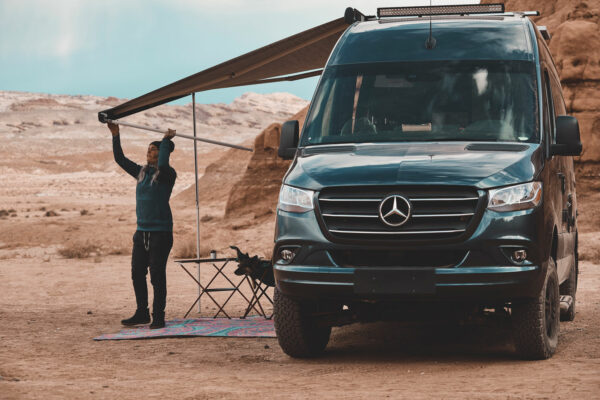 Credit: ThorMotorCoach
Thor Motor Coach Sanctuary
For individuals who don't want to make concessions, Thor Motor Coach manufactures camper vans. The Sanctuary takes Mercedes-already Benz's superb Sprinter 2500 444 and transforms it into a vehicle that can comfortably live on or off the grid.
The 19P ($148,680), which has a back bench that transforms into a bed, and the 19L ($151,060), which has a fixed double bed, are both off-road-ready vehicles. There's still enough room for other creature amenities, such as a bathroom, entertainment area with a TV, and a kitchen with a sink, dual-burner cooktop, convection microwave oven, and fridge, even with the bed.
Everything is kept running by an Onan 2500 LP generator, including an A/C system that can be left on for up to eight hours at a time. When you wish to spend some time outside, there's also a retractable motorized awning.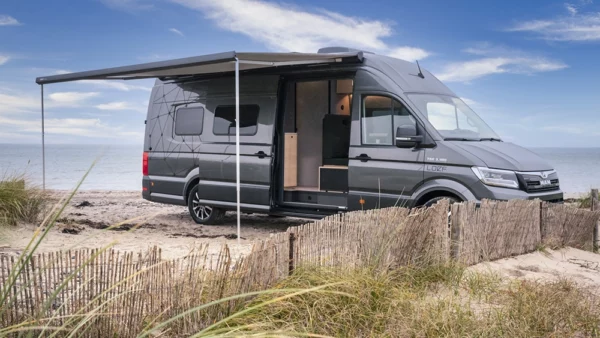 Credit: RobbReport
Loef Camper Van
Although camper vans are often smaller than full-size campers and trailers, Loef has you covered if you need the most space. The latest luxury model from the corporation measures 24 feet from bumper to bumper and stands nine feet tall.
That means its large, open cabin has enough space for a full kitchen, bathroom, and entertainment area that changes to a comfortable sleeping nook when the night's festivities are finished.
When the weather permits, a slide-out Big Green Egg Mini Grille is incorporated into the rear door, allowing you to enjoy an outdoor BBQ. While the sumptuous inside of the $150,000 van is its main selling point, the 2.0-liter turbodiesel engine ensures that you'll be able to handle any road.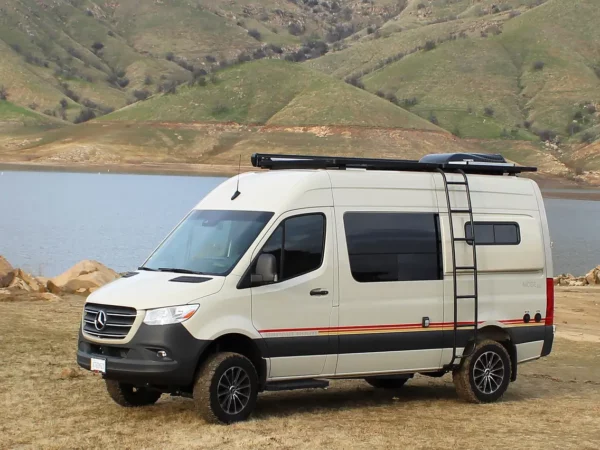 Credit: Business Insider
Storyteller Overland Beast Mode 4×4
The latest offering from Storyteller Overland is a true adventure van. The Beast Mode 444 is the most feature-packed model yet from the Birmingham, Alabama-based outfit, and it was intended exclusively for overlanding (as you may have guessed from the company's name).
It's a real 4×4 with an 188 horsepower turbodiesel V-6 engine that can tow an additional 5,000 pounds. Its slick retro-style paint is complemented by a slew of essential off-roading accessories, including an LED light kit, roof rack and side ladder, and custom wheels with BF Goodrich K02 tires.
Inside, you'll find everything you need to unwind after a day of sightseeing, including a comfortable couch that converts to a full-size sleeping area. There's even a climate control system to keep you comfy regardless of the outside weather. Everything described above is included in the price of $198,746, which is a one-time payment.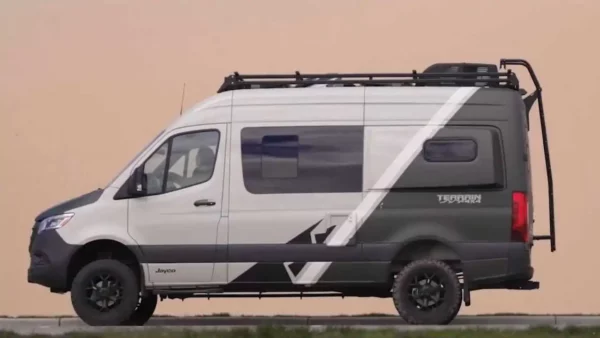 Credit: Motor1
Jayco Terrain
Jayco is most known for its behemoth travel trailers, but it can also do small, like Airstream (well, compact enough to fit in a parking space, that is). The latest Terrain model from the American manufacturer, which starts at $192,000, is an adventure van for folks who want to get off the main road.
With a turbo-diesel V-6, Koni shocks, a rear stabilizer, and a rear hitch strong enough to tow an additional trailer if you need more space, it's ideal for off-roading.
It's a little sparse on the inside compared to some of the other alternatives on this list, but its kitchenette can be turned into a bedroom area with enough space for a full-size bed and lots of storage underneath. When you need some shade in the summer, there's even a built-in awning.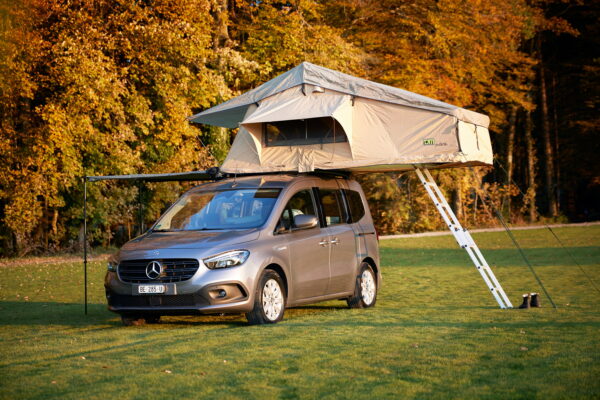 Credit: AutoEvolution
Mercedes-Benz Citan Tourer
The Sprinter isn't Mercedes-only Benz's van, which is easy to forget because of its popularity in camping circles. The Citan is the Citan's smaller, more urban relative. It can also be converted into a more compact luxury camper van, despite its smaller frame.
With the new Tourer model, the German manufacturer has done the most of the legwork for you. It's a little smaller than some of the other alternatives on the list—its dedicated sleeping section only fits two adults, while two more can squeeze in the front seats—but it does have its own built-in kitchen.
When you open the back hatch, you'll find practically everything you need to prepare a home-cooked lunch. One thing to keep in mind: the van's 1.5-liter diesel engine, which comes from Renault, only produces 94 horsepower, so you'll want to stick to paved roads. Pricing has yet to be disclosed, but it will be soon.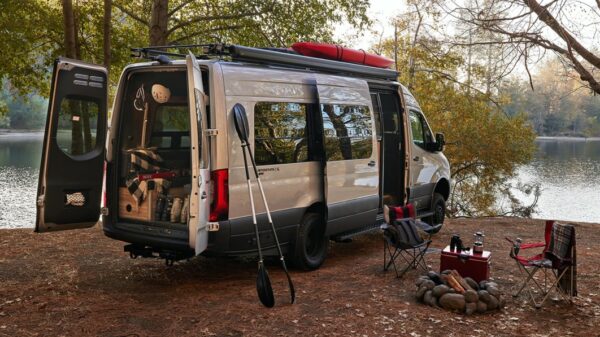 Credit: AutoBlog
Airstream Interstate 24X
Airstream is likely the most closely linked brand in America with trailer living. Fortunately, the business isn't scared to branch out. Consider the Interstate 24X, which is a trailer manufacturer's attempt to push the camper van to new heights. Built on the bones of a Mercedes-Benz Sprinter, the vehicle offers everything you need to rough it in comfort, much like a lot of the other cars on this list.
In its climate-controlled cabin, Airstream has gone to great lengths to maximize room. The largest sleeping area in a Class B Motorhome is simply converted from a modular dining table that doubles as a desk. There's also a bathroom and a full kitchen. You can even take the vehicle off-road.
It has a 3.0-liter turbo-diesel V-6 engine that produces 188 horsepower and 325 pound-feet of torque, as well as four-wheel drive, a height-adjustable suspension, and all-terrain tires. The all-around beast's price starts at $213,850.
If you want to try the van life experience for this first time or maybe looking to try a different option for your travels, these options are a great place to start. There is so much you can and places you can go with any of these vehicles to enhance your travel life.